SAE AS1072 Aviation Firesleeve
AS1072 Firesleeve Withstands 500°F / 260°C
continuous exposure; 2200°F / 1205°C for
periods up to 15 minutes and short
excursions to 3000°F / 1650°C.
Almost every aviation engine - turbine, turboprop or piston; civilian and military - uses firesleeve to protect critical hoses and wiring in the event of an engine compartment fire.
Our firesleeve meets the specifications of SAE AS1072E, allowing qualified hose assemblies to pass the fire resistance testing specification of AS1055D.
It may be used for all fuel, oil, hydraulic, fire extinguisher and prop feathering lines. "Fire-proof" hose lines, as defined by the FAA, must withstand a direct flame for fifteen minutes under specified flow conditions without failure. Fire-resistant lines must withstand a 5 minute exposure under these conditions.
Fire-proof hose lines are obtained when the proper hose, clamps, fittings and Firesleeve is selected and properly assembled.
Meets the requirements of FAA TSO - C53a and TSO - C75.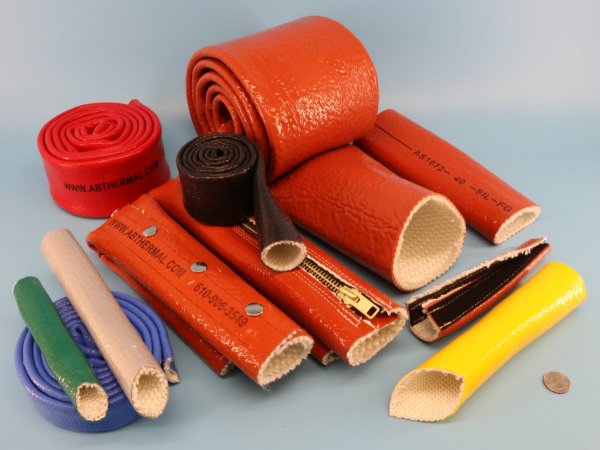 AB Technology Group is a leader in the manufacture and distribution of SAE AS1072 specification firesleeve for aviation use.
You can order our products directly; we accept credit cards over the phone or by fax - we are happy to complete your supplier and QA forms.
Our quality management system has been reviewed and approved by many industrial companies, and also by aerospace companies such as Boeing, Airbus, Bell Helicopter, Aviall, B/E Aerospace, Cessna, Cobham Aviation, Garmin, Lockheed Martin, Coleman Aerospace, Rolls Royce, Pratt and Whitney, Sikorsky, BAE Systems, General Dynamics, Aerojet Rocketdyne, Bombardier, GE Aviation, Zodiac Aerospace, Honeywell, and scores of other operators, maintenance organizations and airlines.
We supply products to many
space launch organizations in North America, including Space X, United Launch Alliance, Blue Origin, Virgin Galactic, Boeing Defense Space & Security, Lockheed Martin Space Systems and Orbital ATK.
Our message is one of engineering excellence and product reliability,
What Can We Do For You?
Our customers are 3 of the top 10, and 18 of the top 100 Fortune listed companies, and includes such recognizable brands as 3M, Ford, Toyota, General Motors, Aston Martin, Exxon Mobile, Campbell Soup,
Eaton, Chrysler, Disney, L3, Shell, Corning, Michelin, Mitsubishi, Monster Energy, Du Pont, Chevron Phillips, Emerson, CAT, Energizer, Briggs & Stratton, Frito Lay, Volvo, NAPA, Peterbilt, John Deere, Cummins, Air Products, Alcoa, Bayer, BMW, etc.
If you need to purchase through an established purchasing agent or distributor, we work with the following distributors: Motion Industries, Fastenal, Applied Industrial Technologies, McMaster-Carr, Grainger, MRC Global, NOW Inc, Vallen, Wolseley, Kaman Industrial, DXP Enterprises, Eriks, BDI, HISCO, Wesco, Rexel/Gexpro and many more. AB technology group enjoys a solid reputation for value, product quality and consistently exceeding delivery expectations to the customers and branches of these distribution brands.